FOLLOW OUR MAP OF THE GROUNDS TO YOUR NEXT RIVER SITE OASIS!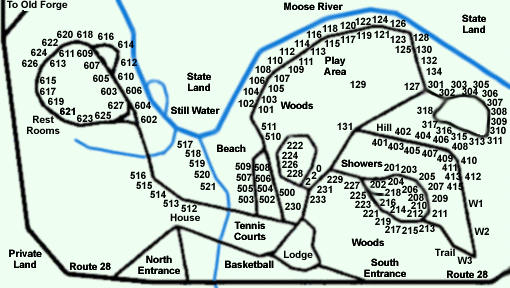 ​
LOOKING AT THE MAP FOR A
SUMMER SEASONAL OR YEAR-ROUND SITE:
​
ALL SITES TO THE LEFT OF THE BLUE LINE (NORTH) ARE
SUMMER ONLY SITES (500's-600's)
​
ALL SITES TO THE RIGHT OF THE BLUE LINE (SOUTH) ARE
YEAR-ROUND SITES (100's, 200's, 300's & 400's)
​
REMINDER:
SUMMER SEASON IS MEMORIAL -COLUMBUS DAY
WINTER SEASON IS DEC 1ST - APR 1ST
OUR PARK DOES SHUT DOWN THE ENTIRE MONTH OF APRIL FOR MUD SEASON. YEAR-ROUND PEOPLE CAN PARK AND WALK IN, BUT NO GATE ENTRY OR BATHROOMS WILL BE ACCESSIBLE.
ANY SITE NOT RESERVED FOR THE SUMMER SEASON
OR YEAR-ROUND, WILL BE AVAILABLE ON A DAILY BASIS
(THIS INCLUDES ALL SITES WITHIN THE ENTIRE PARK.)
​
MESSAGE: IF YOU RESERVE A SITE FOR DAILY USE, THE POSSIBLY DOES EXIST THAT THE SITE WILL NOT BE AVAILABLE AT CHECK-IN, DUE TO BEING LET GO AS A
MONTHLY, SEASONAL OR YEARLY SITE. WE DO GREATLY APOLOGIZE IF THIS SITUATION DOES OCCUR. WE ALWAYS DO OUR VERY BEST TO ACCOMODATE YOU TO A SIMILAR SITE. YOU WILL ALWAYS HAVE A RESERVED SITE, JUST MAY NOT BE THE ONE INITIALLY DISCUSSED. THIS DOES NOT REQUIRE A PRIOR PHONE CALL ON OUR BEHALF, BUT WE CERTAINLY DO OUR BEST TO SATISFY YOUR NEEDS.
​
MUST CALL TO SEE WHAT SITES/DATES ARE OPEN FOR DAILY RESERVATIONS - 315 369 6618