FOLLOW OUR MAP OF THE GROUNDS TO YOUR NEXT RIVER SITE OASIS!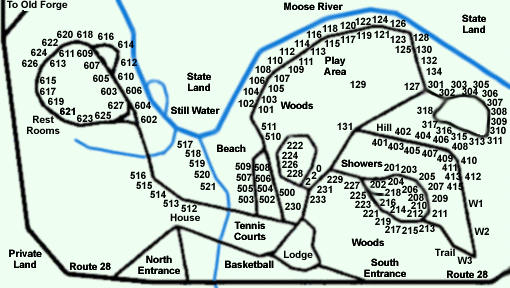 ​
LOOKING AT THE MAP FOR A
SUMMER SEASONAL OR YEAR-ROUND SITE:
​
ALL SITES TO THE LEFT OF THE BLUE LINE (NORTH) ARE
SUMMER ONLY SITES (512-627)
​
ALL SITES TO THE RIGHT OF THE BLUE LINE (SOUTH) ARE
YEAR-ROUND SITES (100's, 200's, 300's & 400's)
​
WINTER SITES WE KEEP IN THE 200'S SECTION CLOSE TO THE BATH & SHOWER FACILITIES.
​
ANY SITE THAT IS NOT TAKEN DURING THE MONTHS OF MAY THROUGH OCTOBER ARE AVAILABLE FOR WEEKLY/MONTHLY RATES. RIVER SITES ONLY ARE $60/DAY +ELECTRIC FOR 2 ADULTS, AND OFF RIVER SITES ARE $900/MONTH+ELECTRIC.
​
REMINDER:
SUMMER SEASON IS MEMORIAL -COLUMBUS DAY
WINTER SEASON IS DEC 1ST - APR 1ST
OUR PARK DOES SHUT DOWN THE ENTIRE MONTH OF APRIL FOR MUD SEASON. YEAR-ROUND PEOPLE CAN PARK AND WALK IN, BUT NO GATE ENTRY WILL BE ACCESSIBLE.
​
MESSAGE: IF YOU RESERVE A SITE FOR A MONTH, THE POSSIBILITY DOES EXIST THAT IT MAY GO AS A SEASONAL OR YEARLY SITE. WE DO GREATLY APOLOGIZE IF THIS SITUATION DOES OCCUR. WE ALWAYS DO OUR VERY BEST TO ACCOMODATE YOU WITH A SIMILAR SITE. YOU WILL ALWAYS HAVE A RESERVED SITE, JUST MAY NOT BE THE ONE INITIALLY DISCUSSED. IF THIS DOES OCCUR, A PRIOR PHONE CALL ON OUR BEHALF WILL BE MADE, TO KEEP YOU POSTED OF THE CHANGE. AT THAT TIME, YOU CAN DECIDE TO STAY WITH ANOTHER SITE DURING YOUR STAY OR FORFIET YOUR RESERVATION.
​
MUST CALL TO SEE WHAT SITES/DATES ARE OPEN FOR MONTHLY RESERVATIONS - 315 369 6618